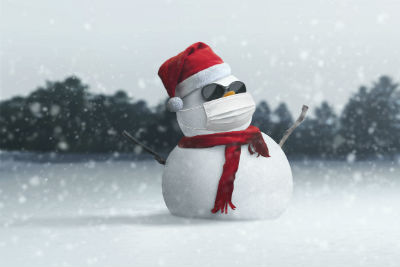 by Jackie Deal
While a few Christmas lights still twinkle and the Christmas dinner pounds abound, let's think of Christmas Past. I remember three kinds of Christmases; perhaps you'll remember them too.  There's the Minnesota Christmas:  COLD,Cold cold.  The Oregon Christmas: rainy, wet, foggy.  And the Arizona Christmas: cactus, palm trees and sand.
You may have known them by other names but the surroundings were probably similar. The Minnesota Christmas always meant snow, in fact after I moved from Minnesota I just couldn't feel Christmassy until I saw some snow. However, the most snow I ever saw was in New Hampshire where I spent one winter.   In the morning, ready to go to work, you open the door and there's nothing but white, white, white.  The snow was deeper than the door! It was nothing to walk in snow up to your waist.  One winter was enough!
Oregon, the Willamette and Umpqua River valleys, where I've experienced many Christmases is stingy with its snow. Rain and fog are normal.  The fog lifts and drops and the scenery changes: sometimes you're surrounded by mountains and other times, nothing exists but your own driveway. It's really rather enchanting.  And the rain, there are different kinds of rain. My favorite is the soft, gentle mist-like rain that makes you lift your face and say "Oh, isn't this a lovely, nice rain." Of course, there's also the blasting horizontally driven downpour that makes you wonder why you don't live in Arizona!
Christmas in Arizona?  Aw, totally different.  Twinkle lights nestled in palm trees and adorning cactus.  There's nothing like it! Santa doesn't come on a sleigh, maybe a hay wagon pulled by a camel.  It can get a little crispy, cold (not by Minnesota standards!) and winter jackets feel good. Once, just once, I saw snow on the desert floor and sparkling on the cactus:  what a novel sight! But if you're waiting for snow, you'll miss Christmas.  Now I know, Northern Arizona in the mountains does have snow but they don't share it with the valley and the deserts.
Whatever, wherever your Christmas, this was the year of the Covid Christmas for all of us.  So let's look ahead:  Covid can't last forever.  It will be contained faster if we all do our part.  You know the drill:  masks, wash hands, 6 feet apart.  This too shall pass but Christmas?  Aw, it will last forever.